So, here we go...this is where it all begins: the beginning.
Let me start by introducing myself. My name is Katie and I am a co-owner of Cannon Beach Salon and The Union Knot. I'm going to be sharing with you the ups and downs and all the "in betweens", the ugly/raw and (hopefully) the beautiful aftermath, the character and love that pours from our everyday stories and, last but not least, the voice that speaks straight from my heart.
I feel that in order to understand the process, and the beautiful existence that we call the present, you must first understand the past. So...here goes…
I was born an Oregonian who met, married, started a family and moved away. My husband and I raised our two children in Idaho before moving back to Oregon when our kids were kindergarten and third grade. After moving back and (FINALLY) getting my cosmetology license in Oregon again, I started doing hair in a salon in Seaside. I was there for a little over two years before realizing that I was not growing. My clientele was stagnant. I needed more. I realized that my network, so to speak, wasn't in Seaside but in Cannon Beach. This is where our friends, neighbors, parents of our children's friends and so on were living and working. THIS is where I needed to be. So I did some digging. I spoke to lots of people, looked at several spaces, met with some owners and, in the end, I came up with a pretty sweet little set up. I called it Katie's Beach Salon. It was bigger than expected but it was mine. It was mine and I was happy.
I grew. I grew REALLY fast. There were some factors that contributed to that growing but the long and the short of it is...I grew beyond what I could handle on my own. Now, keep in mind that when I started this adventure, I was solo. This was to be a one man (woman) show. I was fine with that. Happy with that, actually. But as I grew, I noticed two things: 1.I had space for more than just myself and 2. I was turning people away left and right. Both those elements led me to believe I should bring in some help. It took some time (and a few along the way) but I found her. I found Brigitte. Well….actually Brigitte found me. Brigitte came to me in May and by the following July, she became co-owner of what is now Cannon Beach Salon. We think alike, Brigitte and I. But we are different enough that it works. It's a "ying and yang" sort of dynamic that just kinda works.Brigitte can start on one end of the spectrum "I like this" and I can be on the exact opposite end "eww, gross...how about this?" and we have this banter back and forth until all of the sudden we both land on the same thing and shout "its perfect!" So, when you come to see us, when you come visit CBS or The Union Knot, just know that what you see is not just random. We have poured our heart and soul into both these spaces. Everything in and around you has purpose. Everything you see and all that you touch was sought out, purchased, installed and/or placed with absolute intention. We care about this space. We care about our jobs. We care about our coworkers and our neighbors and we care about our clients. We love what we do and we have a passion to grow. To change. To evolve. We are constantly learning and striving to bring only the highest standard of our work to our clients.
I think that it's important to know where people come from in order to gauge where they are going. And the mess that's in between...that beautiful ugly mess...that's the best part. That is the gooey center. That's what you will experience in this blog. I showed you the starting line: the beginning, if you will. And there is no finish line yet. There's no end in sight, as we have just begun. So what you see is the gooey center, the best part.
I'm excited to see what lies ahead.
Without you, there is no us.
And for that, I will forever be grateful.
From the bottom of our hearts: Thank you.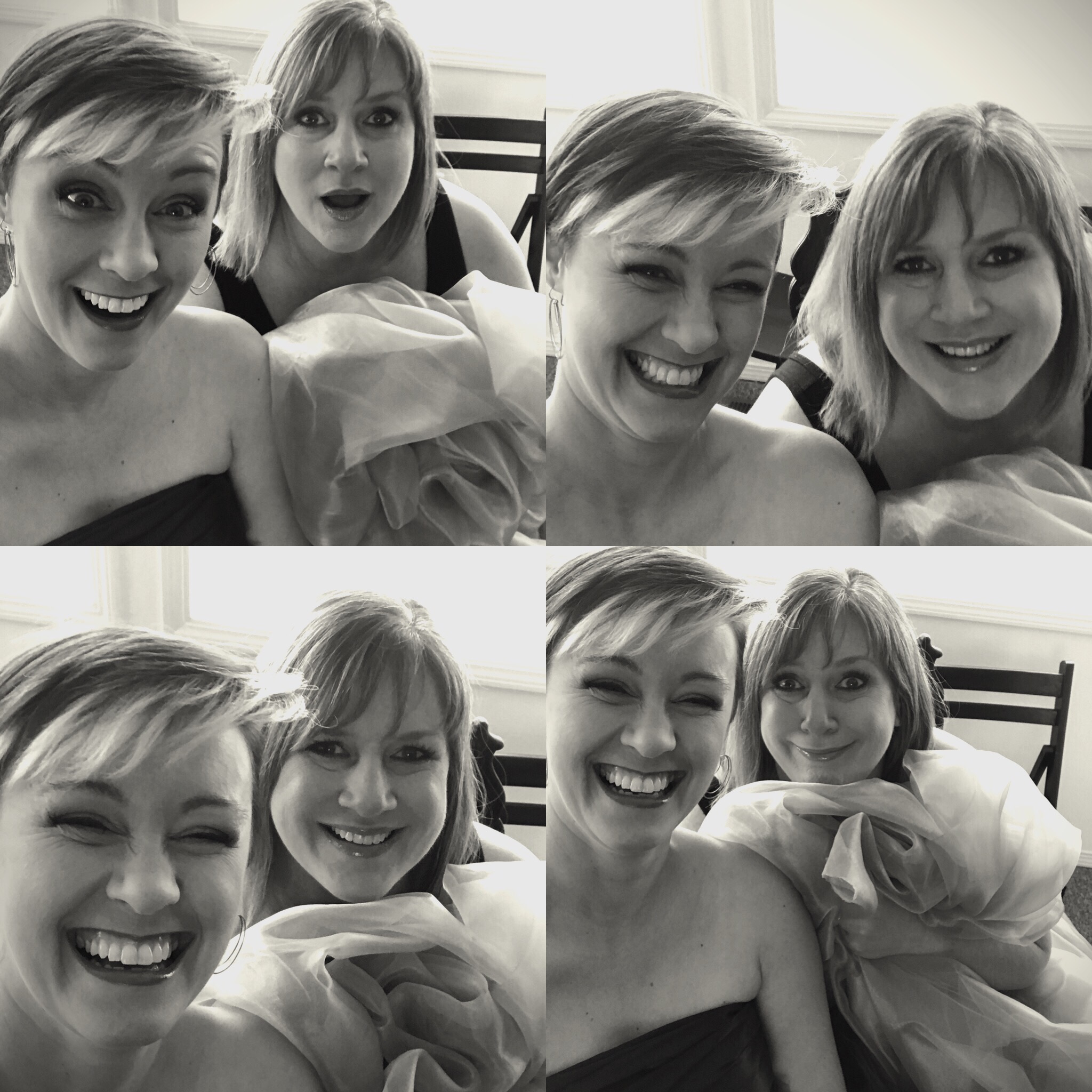 Katie (left) and Brigitte (right)
"Smile...happy is contagious."